Tuesday November 25, 2008
Fifteen Hiccups Of Fame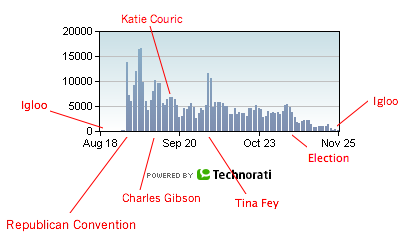 It's been a long time since I've felt hopeful about the outcome of an election. I remember well the civil rights anti-war marches of my childhood. The recent years have felt like a return of profound delusional corruption and polarization that marked the Nixon era. The most peculiar aspect of it is how it came to a head with desperate gasp of Sarah Palin's VP nomination. That the questions about her qualifications were questioned at all demonstrates the height of delusion. While the republican fringe ran to embrace her, those with a brain could only ask "WTF?" and cross party lines. If she had been equipped otherwise between those legs, it would never have happened. It's like reverse sexism, if it had been a man with that background and view points, he would have been laughed out the door as a naive hillbilly. (Yep, I am a reasonably educated urban elitist, so?) Instead, we were treated to tragic comedy in slow mo. The graphic included here is a chart of the blogosphere's mention trajectory for Sarah Palin over the prior 100 days.
The timeline starts off with the igloo phase: practically nobody has heard of her and nobody is talking about her. Then there's the nomination at the republican convention. Followed by interviews, the Tina Fey phenom, the election and ...back to the igloo. So long, Caribou Barbie.
All of the talk about her PR representation, book deals, etc are for naught; she's proven at every opportunity that she has nothing to say that is meaningful and contributing to moving our society forward. Nonetheless, it's amusing to read the conservative bloggers who talk about Sarah Palin as "the future of the republican party." As long as they stick to that meme, they're assuring themselves falling further adrift of where this country is going. Bon voyage, don't let that iceberg hit you in the butt on the way out!
( Nov 25 2008, 02:12:45 PM PST )
Permalink