Thursday October 19, 2006
OpenID on Technorati
As I announced on the Technorati Weblog, we rolled out support for blog claiming with OpenID. I'm really proud of the work that Chris and the team have done to make this a reality. If you're not familiar with OpenID, here is one good place to start. Sure, I'm well aware of the concerns about phishy user interface vulnerabilities. The idea of logging in without a password may seem weird.
One weird thing, for new users, is that instead of logging into an OpenID-using site (like Zooomr) with a user name and password, you just give it your personal OpenID URL -- and no password. Then your browser pops over to your authenticating site (like myopenid.com) to verify that you want to use your persona on the new site. This is bound to initially confuse people, and since users may not be asked for a password, it can also appear to be less secure, although it is not.
ZDNet: OpenID has a potential cure for Website password overload - Rafe Needleman
Frankly, I'm not certain what the best resolutions are for those concerns. However I'm more comfortable with adopting OpenID "as-is" and evolving as the technology advances then sitting around waiting for it to be perfected. Welcome to now.
Distributed identity ideas have been gestating for a long time while identity cathedrals have been built and fallen. If your blog is your voice, your URL can be your identity.
( Oct 19 2006, 11:42:04 PM PDT )
Permalink
Thinking about linking
Whenever I look at page to page, post to post, blog to blog and domain to domain relationship statistics (and permutations across them) interesting things often emerge. Microsoft's Live Search recently released a linkfromdomain operator that can help dig into these linking relationships. For instance, linkfromdomain:arachna.com ruby returns the pages that I've linked to that have ruby in the text. Combined with the site operator, I can do a search of the pages I've linked to on Technorati with linkfromdomain:arachna.com site:technorati.com.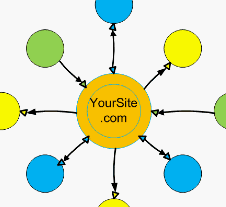 Looks like the blogosphere is noticing, within the last two days Technorati has seen 57 links to the linkfromdomain announcement blog post. Kudos to MSN's search team for a cool innovation.
One apparent problem with their crawls is javascript/flash-plugin handling, the site:youtube.com linkfromdomain:technorati.com SERP shows pages referenced from Technorati's most linked-to YouTube videos, however all of the SERP items have the text
Hello, you either have JavaScript turned off or an old version of Macromedia's Flash Player. Click here to get the latest flash player.
heh!
Anyway, combine programmatic access (
you can get a feed of that search with this

link
) with these link operators and Live Search is a very powerful and useful product. Read more about it on
Live Search's WebLog
search livesearch msn technorati
( Oct 19 2006, 06:56:16 AM PDT )
Permalink